Clean It Well
$24.99 USD $29.99 USD
ALL-PURPOSE: Use this stuff everywhere - kitchen, bathroom, kids toys, stroller.
TOXICFREE®: Made with only all-natural ingredients. Certified toxin free from the ToxicFree® Foundation.
SUPER CONCENTRATED: A little bit goes a long way. This bottle will last you forever....well not quite forever :)
GREAT SCENT: You'll love the Citrus scent. You may even enjoy cleaning...okay maybe that's too far.

Raise Them Well's "Clean It Well" is made from Ecocert® and ToxicFree® ingredients that remove hard water, grease, and tough stains. It has a high USDA Biobased (biodegradable) rating and is ideal for your whole family, your home and the planet. This product will eliminate the need for up to 12 products in your household! saving you space, money and time!
Have you ever strolled through the aisles at Target (or other favorite place to purchase cleaning products) trying to figure out which cleaning products to purchase that aren't full of disgusting chemicals, but also work? Ever purchased a "natural" cleaning solution for the price of designer shoes only to be left underwhelmed by it's smell or dissatisfied by its performance? Have you wanted to allow (force?) your young children to help you clean, but retreated in fear that they might ingest some of the cleaner or get it in their eyes? Are you tired of wearing gloves so that your... Read More
Change is hard.  It's so hard.  Adults have a hard enough time making changes for ourselves and when we add in the pushback from children who don't understand and don't want to and don't have the same intrinsic motivation it gets even harder.The result?  Overwhelm leads to paralysis.  We get so confused by conflicting information and feel the weight of so many obstacles on our shoulders and then we just don't do anything at all because it's too hard.  And it's true.  Doing it all is impossible. As busy parents I feel the only way to make changes in any... Read More
Customer Reviews
12/10/2020
Sarah M.
United States
Clean It Well
Clean It Well is the best cleaning product I have ever had the experience using! We own a motel / apartment complex in a resort area and we are blessed with a large medical personnel clientele. Our guests expect and appreciate "clean" without harsh chemical odors - this product delivers. We love it!
08/24/2020
Sarah S.
United States
Favorite cleaner!
My family has been using this cleaner for about a year now. We absolutely love it! The smell is my favorite but it really does clean well! Highly recommend as a replacement for toxic cleaners.
08/12/2020
Rebecca M.
United States
Love the smell!
My desire was to find something with a cleaning odor that did not give me a headache. I had become very sensitive to cleaning smells, and was trying different ones with little luck. This smells wonderful and does not have a harsh chemical odor
04/30/2020
Kelly M.
United States
BEST CLEANING PRODUCT
This CLEAN IT WELL product is so versatile safe. I love using it. I have used it, so far, as a window cleaner (only a few drops required), mop solution, & I use same window mixture to spray my indoor plants! I'm hoping this will enhance the plants and keep bugs off. :) Not only does 'CLEAN IT WELL' smell WONDERFUL, not toxic-y (a word?) like alot of 'natural' cleaners, yet it also performs as perfectly as stated! I was not surprised I like this product so well, The Saunders family, RAISE THEM WELL CO. has always made amazing products that I've enjoyed using for 7 yrs now! Thank you for continuing to grow and expand our knowledge of alternative healthy resources! BLESSINGS TO YOU!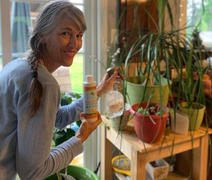 04/23/2020
Miriam P.
United States
Clean it well
The product came almost as soon as I ordered it. It's smells like fresh oranges and can be used for everything. I tried it on the pink mold that was in our shower when we got back from being gone for a week. I am really into non toxic products that work and this one fills the bill. I'm going to clean my bathroom mirrors today. And it cleaned the dirt off my running shoes nicely. Thanks for making this product available for me. You guys are awesome