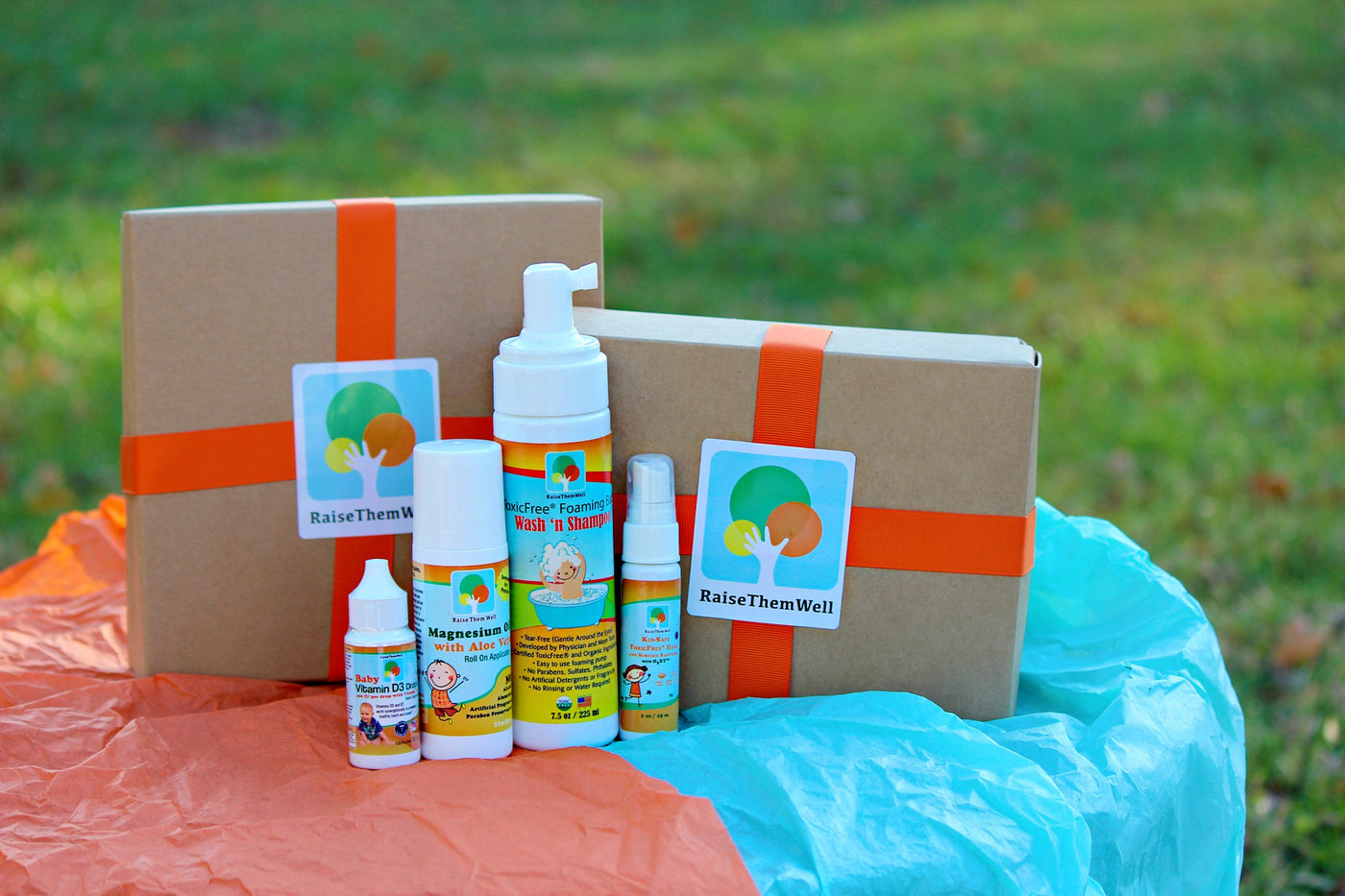 Favorite Baby Essentials Gift Box: 3-Pack Sanitizer, Baby Wash, Magnesium Roll On and Vitamin D
$64.50 USD $75.99 USD
Raise Them Well Favorite Baby Essentials Gift Box is perfect for any occasion. This gift box arrives with all the essential baby products in one convenient package that's ready to give or send to new parents or expecting families.
The Baby Essentials Gift Box includes four full-size products:
Hand and Surface Sanitizer 3-Pack
Foaming Baby Shampoo 'N Wash
Kid Safe Magnesium Roll On
Vitamin D3 and K2 Drops
You're sure to put a smile on some faces when you gift our most popular baby products to that special mom or mom-to-be in your life!

Raise Them Well products are made from the highest-quality, all-natural ingredients and independently tested and certified to meet standards for quality, safety, and label claims by the ToxicFree® Foundation.
Hand and Surface Sanitizer 3-Pack: Essential for On-The-Go Cleaning
Convenient 1-oz spray bottles fit easily into a purse or diaper bag. And there's even one for the car!
Safe for kids, pets, and surfaces
Effective, all-natural ingredients
Cleans and disinfects without harsh chemicals
Can also be sprayed in the air to disinfect and deodorize
Foaming Baby Shampoo 'N Wash: Gentle, Easy-Rinse Formula Makes Bath Time Fun and Easy
Tear-Free
Hypoallergenic
Effective Non-Drying Formula
All-Natural Organic Ingredients
Easy-to-Use Foaming Pump
Kid-Safe Magnesium Roll-On: Promotes Sleep By Gently Calming and Soothing A Fussy Baby
The ONLY Magnesium Oil specifically formulated for kids
Safe and gentle - will not irritate tender skin
Custom roll-on applicator makes application easy - even on squirmy kids
Unique Magnesium Oil and Aloe Vera formula for maximum effectiveness
Can also be used to help calm nervous, anxious, or hyper kids. Also great for sleep and headaches.*
Results are often seen within 20 minutes of application
Vitamin D3 and K2 Drops: For Baby's Bone and Teeth Health
PHYSICIAN FORMULATED. Synergistic blend of Vitamin D3 and K2 for optimal bone and teeth health.*
CONTROLLED DROPPER TIP FOR PRECISE, 1-DROP DOSING. 400 IUs of Vitamin D3 per Drop. 365 Servings (0.36 fl oz/10 ml)
SUPERIOR INGREDIENTS. Vitamin D3 from lanolin (sheep's wool), Vitamin K2 MK-7 from K2Vital (flower extract), Non-GMO coconut and palm oil as the base.
EASY TO USE. Dropper tip bottle eliminates spills and messes.
PHARMACEUTICAL GRADE, BPA-FREE BOTTLE. Same dropper bottle used for medicated drops.
All of these items are thoughtfully selected to meet the needs of a new baby and their parents. Whether you're looking for a baby shower gift or a present for a new arrival, the Baby Essentials Gift Box is sure to be appreciated.

The products come in a reusable gift box, making it a convenient gift option. Plus, the box is perfect for storing baby's keepsakes or other important items.
Give the gift of convenience and comfort with the Baby Essentials Gift Box, the perfect way to welcome a new little one into the world.
Learn More About The Baby Essentials Products:
Magnesium - The Whats and Whys
If you're at all into natural treatments, then you undoubtedly have heard about Magnesium.  It has been discussed numerous times on shows like Dr. Oz and is pushed big time by natural health doctors...
I have been asked this question numerous times by people when they are considering using Magnesium for their kids.  I think that it is because it is not recommended nearly as often as pharmaceutical medications by doctors...
Whereas Dr. Wiggy is the medical guy in our house, I'm the practical counterpart.  One of our biggest goals at Raise Them Well is to make your life easier as a parent.  We've been big fans of magnesium oil for a while, but squirmy kids aren't the easiest for squeezable oil...
Which Magnesium Products Are Right For My Family?
Are you wondering - Which magnesium products are best for your family? We often get questions asking about recommendations for children of various ages with different challenges...
Don't Let the Pretty Bottle Fool You
I've mentioned before about the lack of regulation and standards in the personal care products industry, but I think it's really important to keep talking about it.  Unfortunately, too many families trust products...
Why Your Babies and Toddlers Need Vitamin D and K2
As an Integrative Medicine physician, I am always looking for ways to improve the underlying health of my patients.  I do not like to wait for diseases to develop before starting treatment; I like to set the stage for the body to be healthy...
I don't know about you, but I often feel like the people who created those medicine droppers for children's medicines and supplements clearly never had kids.  I mean- how am I supposed to hold my baby while...
I understand, we have two young kids.  Their hands are everywhere, in the dirt, in the toilet and then in their mouths and the easiest thing to do is grab some gel hand sanitizer and wipe the bugs away.  However, please take heed and stop using hand sanitizer on your kids.  While they may work well to kill germs, you are exposing them to a litany of toxins...
Ingredients Matter: Hand Sanitizer
There is no shortage of information available on all of the dangers that face our families in today's world.  It is overwhelming at times and if it makes you want to go back to bed and pull the covers over your head, I completely understand.  I admit that I too get overwhelmed and sometimes annoyed by scare tactics...
Toxic-Free Certified- What it Means
NO. The FDA does not certify organic or toxic-free personal care, household cleaner, or cosmetic products. Actually, the reins are quite loose when it comes to labeling standards in the US...
RTW Baby Wash: What Makes It Special?
When Adler was a newborn baby we tried oodles of products that claimed to be "clean" and "natural" and "organic" etc., and were left really frustrated by false claims and articles that we read about company practices.   After much searching and trying, we couldn't find anything that we really loved that was 1. user-friendly 2.  worked well  3.  affordable and 4.  readily available. So what did we do?  We made our own!!! Our Raise Them Well Baby Foam and Shampoo is one of my favorite products for SO many reasons:  1.  Certified TOXIC FREE...