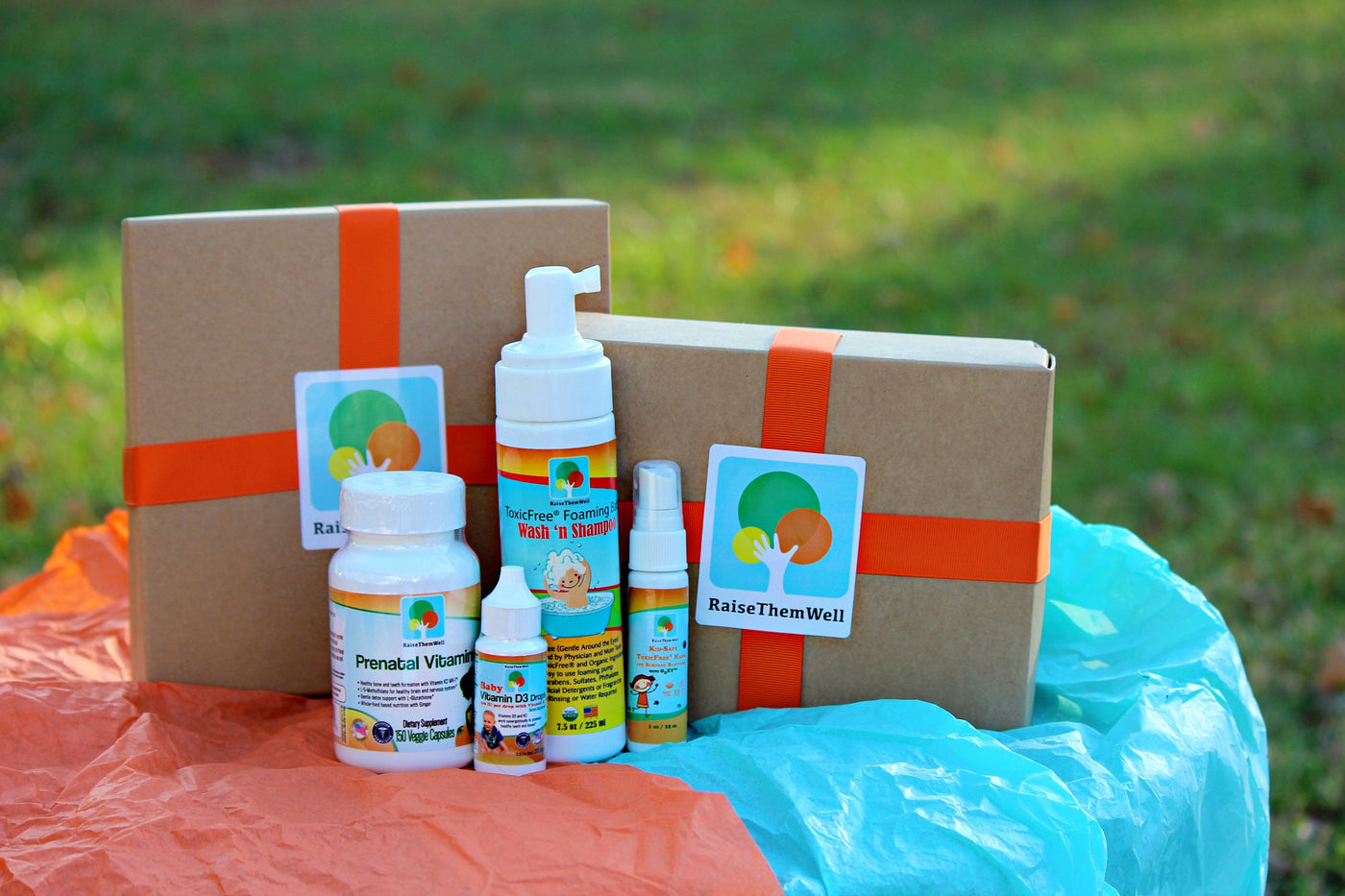 New Baby Gift Box: Essential Items for Newborns and New Moms
$78.50 USD $86.94 USD
Raise Them Well's New Baby Gift Box is the perfect bundle of essential items to help new parents take care of their little ones! This baby gift box includes four items that are specially curated to support the health and hygiene of both the newborn and the parents. It comes already boxed and ready to give or send to new parents.
What's In Our Baby Gift Box?
Our prenatal vitamins are carefully formulated to provide expecting and breastfeeding mothers with the essential nutrients they need for a healthy pregnancy and beyond. They contain Vitamin K2 MK-7 to support baby's bone and teeth development, methylfolate (a natural source of folate all women's bodies can use instead of man-made folic acid), methylcobalamin (a natural source of Vitamin B12), and other vital vitamins and minerals that support healthy fetal development.
Vitamin D3 and K2 drops are an excellent addition to the gift box. These drops are specially designed for infants and provide a natural source of vitamin D and K, which are essential for healthy bone development and immune function.
The Hand and Surface Sanitizer included in the gift box is a must-have for any new parent. This sanitizer is formulated with natural ingredients and is gentle enough to use on both baby's delicate skin and surfaces around the house.
And our Foaming Baby Shampoo 'N Body Wash is a gentle yet effective formula that will leave baby's skin feeling clean and moisturized. The tear-free, foaming, no-rinse formula means all you need is a damp washcloth to pump, wipe, and go! It is made with natural ingredients that are gentle enough for sensitive skin, making it a perfect addition to your baby's bath routine.
This New Baby Gift Box is the perfect way to welcome a new addition to the family. It provides parents with essential items that support the health and hygiene of both baby and parents. Give the gift of peace of mind and comfort with our New Baby Gift Box!
Learn More About The New Baby Gift Box Products
As an Integrative Medicine physician, I find the new research about the importance of proper nutrition from Day 1 for babies fascinating.  I'm not talking about Day 1 after birth, I'm talking about Day 1 at conception.  It is now becoming abundantly clear...
Is the Raise Them Well Prenatal Vitamin only for pregnant and nursing women? What a great question! The answer is No! Our prenatal vitamin is fantastic for all women and teens, not just pregnant and nursing women for lots of reasons...
As an Integrative Medicine physician, I am always looking for ways to improve the underlying health of my patients.  I do not like to wait for diseases to develop before starting treatment; I like to set the stage for the body to be healthy...
I don't know about you, but I often feel like the people who created those medicine droppers for children's medicines and supplements clearly never had kids.  I mean- how am I supposed to hold my baby while...
I understand, we have two young kids.  Their hands are everywhere, in the dirt, in the toilet and then in their mouths and the easiest thing to do is grab some gel hand sanitizer and wipe the bugs away.  However, please take heed and stop using hand sanitizer on your kids.  While they may work well to kill germs, you are exposing them to a litany of toxins...
There is no shortage of information available on all of the dangers that face our families in today's world.  It is overwhelming at times and if it makes you want to go back to bed and pull the covers over your head, I completely understand.  I admit that I too get overwhelmed and sometimes annoyed by scare tactics...
When Adler was a newborn baby we tried oodles of products that claimed to be "clean," "natural," and "organic," etc., and were left really frustrated by false claims and articles that we read about company practices.  After much searching and trying, we couldn't find anything that we really loved. So we made our own!!! Our Raise Them Well Foaming Baby Shampoo 'N Body Wash is one of my favorite products for SO many reasons...
NO. The FDA does not certify organic or toxic-free personal care, household cleaning, or cosmetic products.  Actually, the reins are quite loose when it comes to labeling standards in the US.  That's the cold hard truth.  Product formulators can write just about anything they want to on their labels and get away with it. It's nonsense really, but it's reality and it means that reading labels or only supporting companies that openly share their product ingredients is more important than ever!...
I've mentioned before about the lack of regulation and standards in the personal care products industry, but I think it's really important to keep talking about it. Unfortunately, too many families trust products as safe...