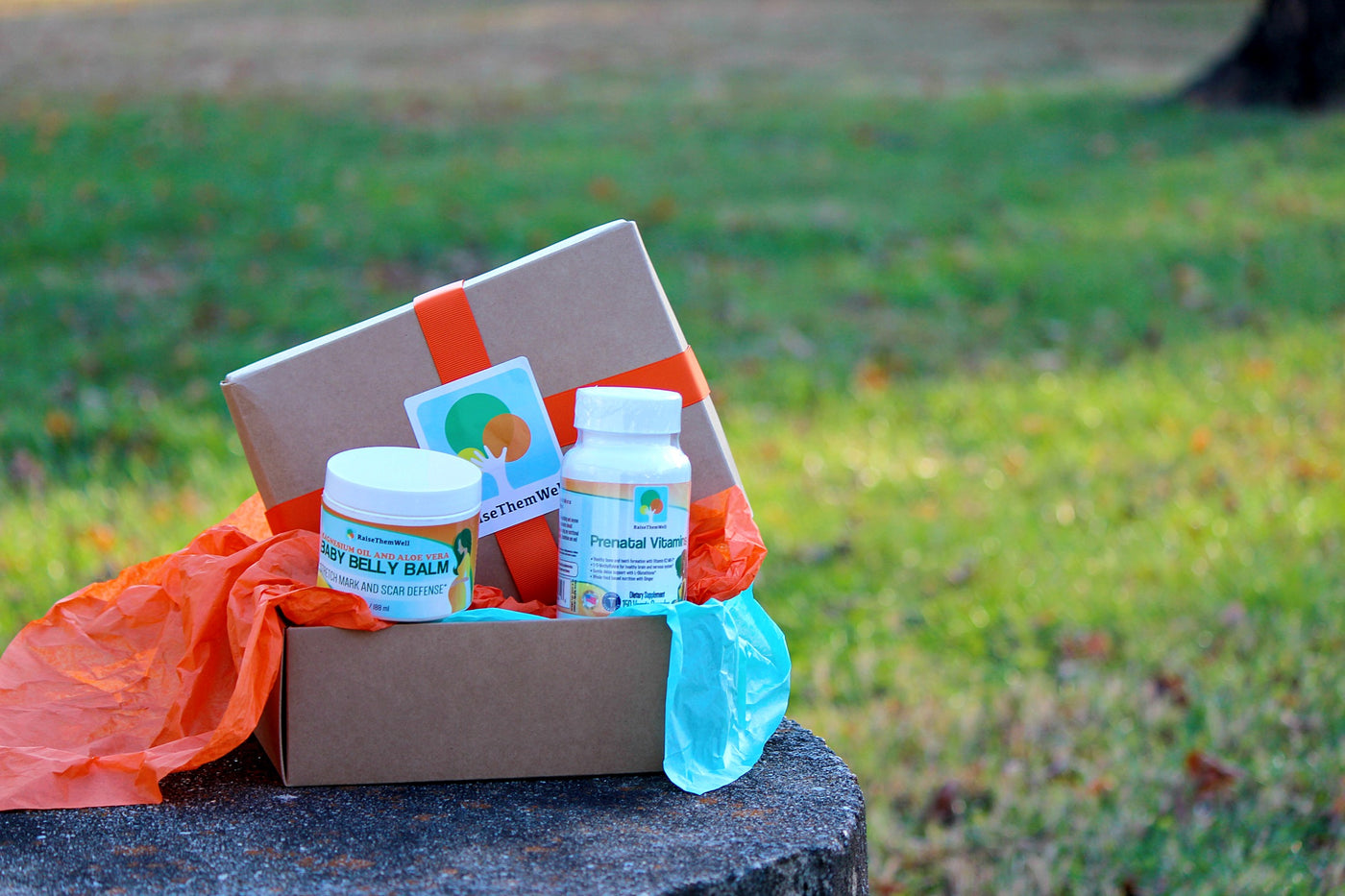 Pregnancy Gift Box for Expecting Moms: Belly Balm and Prenatal Vitamins
$48.00 USD $53.98 USD
The Pregnancy Gift Box arrives in a gift box that is ready to send or give to your favorite mom-to be. It's the perfect way to pamper and celebrate the expecting mom in your life! This thoughtfully curated box includes our Belly Balm and Prenatal and Breastfeeding Multivitamins to help expecting moms look and feel their best throughout the pregnancy journey.
Prenatal and Breastfeeding Vitamins
Most prenatal vitamins on the market use outdated research, ineffective/potentially harmful ingredients, and are missing key ingredients for a healthy mom and baby.
Raise Them Well Prenatal Vitamins were developed by an Integrative Medicine MD for his wife and are based on the latest research for healthy fetal development. Expecting moms love that our prenatal vitamins feature:
No taste or smell
Easy-to-swallow capsules
100% Money-Back Guarantee
Non-GMO
Gluten-free
No Artificial Coloring, Flavoring, Sweeteners, or Preservatives
Hypoallergenic: contains No Yeast, Wheat, Eggs, Dairy Products, Nuts, or Processed Sugar
Independently tested and certified to meet standards for quality, safety, and label claims
4 unique ingredients make Raise Them Well Prenatal Vitamins the best you can find.

Vitamin K2 MK-7 - critically important for baby's bone and teeth development. Without it, kids may develop abnormal skeletal structures and crooked teeth.
Methylfolate - a superior source of folate which is necessary for baby's brain and nervous system development. Folate has been proven to prevent neural tube defects and is recommended by the CDC for women of childbearing age.
Methylcobalamin - Active, natural form of B12, which plays an important role in brain and nervous system health. Most other prenatal vitamins contain cyanocobalamin (a man-made form of B12 that is bound to cyanide).
Glutathione - helps protect the baby from toxins and helps mom gently detoxify. Studies have shown that there are hundreds of toxins in the cord blood of babies. It is nearly impossible to completely eliminate your exposure in our toxic world. Glutathione binds to toxins floating around in the blood and excretes them in the mom's urine.
Baby Belly Balm
Our Baby Belly Balm is an all-natural, chemical-free, belly moisturizer that is uniquely formulated to prevent stretch marks.
Contains only natural ingredients, so it is safe for mom and baby
No parabens, sulfates, VOCs, or other potential hormone disruptors
Formulated with magnesium oil to support healthy tissue expansion and prevent stretch marks
Keeps the skin moisturized all day without feeling greasy
It contains authentic Dead Sea Magnesium Oil infused with Aloe Vera, Jojoba & Coconut oils and enhanced with Lavender essential oil.

Magnesium oil is THE necessary ingredient that helps support healthy skin as it stretches. Magnesium Oil, along with the all-natural ingredients in our Belly Balm, helps to moisturize the skin and relax the soft tissues so stretch marks are minimized or avoided completely.
Raise Them Well Baby Belly Balm smells great, enhances relaxation, and leaves the skin feeling soft and smooth all day. We are confident that this is the best organic balm for preventing stretch marks.
Whether you're looking for a special gift for a friend or loved one, or simply want to treat yourself during this exciting time, our Pregnancy Gift Box is the perfect choice. Give the gift of self-care and support to the expecting mom in your life today!
Learn more about our Prenatal Vitamins and Baby Belly Balm!