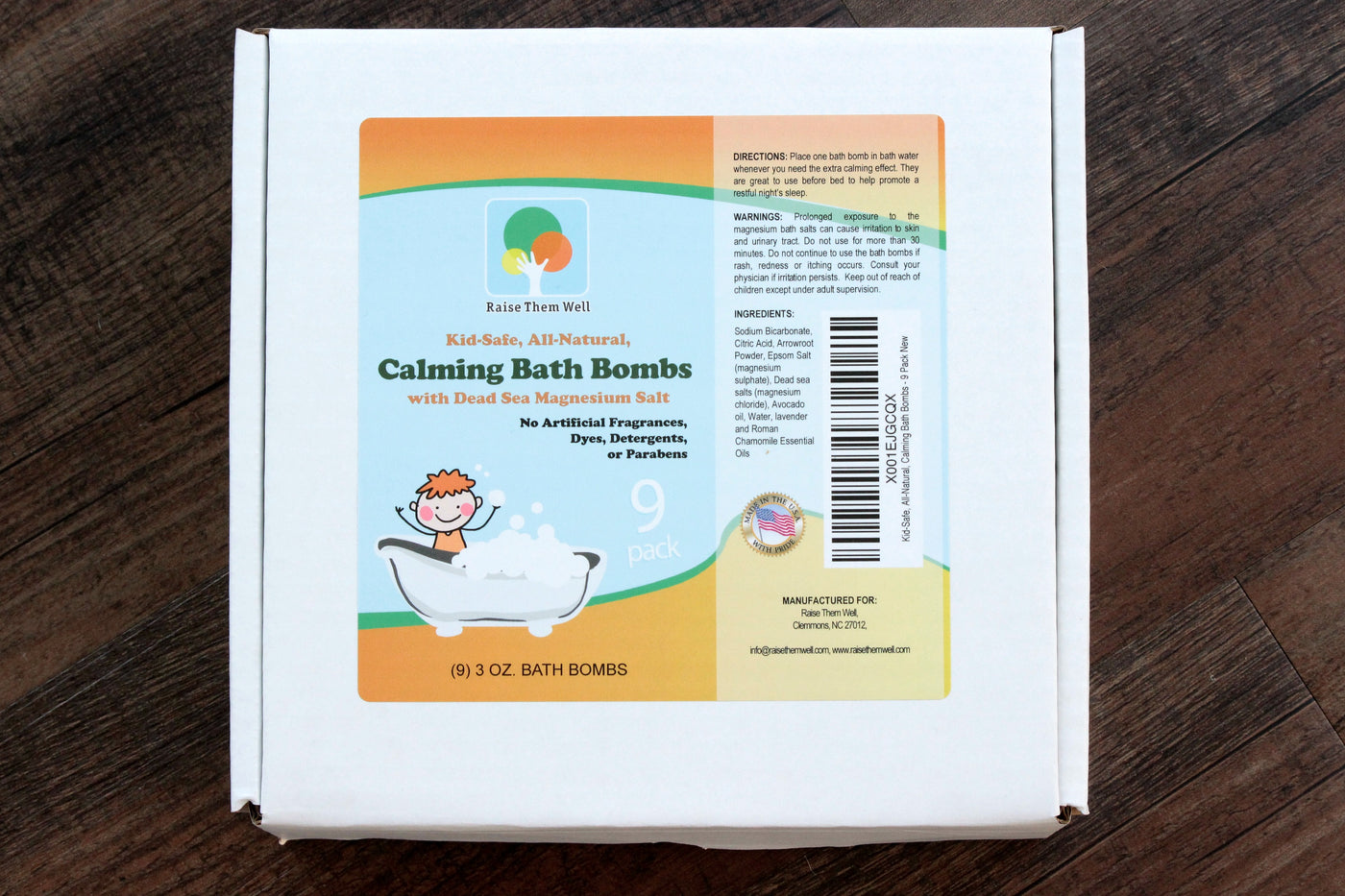 Kid-Safe Magnesium Bath Bombs
$42.00 USD $52.99 USD
Kid-safe calming magnesium bath bombs are made with 100% pure Dead Sea magnesium salts and essential oils, leaving your little ones soothed and relaxed after a long day! Our bath bombs are designed for the energetic kids in your life. Simply add to bath water and enjoy!
While most bath bombs use a variety of synthetic ingredients including dyes, detergents, preservatives, and fragrances that stimulate kids... our bath bombs use only all-natural ingredients that are clinically proven to promote calming and restful sleep.
Also a great relaxing treat for moms and dads and moms-to-be!  A perfect solution for the entire family!
All Natural Ingredients:
Baking soda

Citric Acid

Arrowroot Powder

Epsom Salt

Dead Sea Magnesium Salts

Avocado Oil

Lavender Essential Oil

Roman Chamomile Essential Oil
Dead Sea Magnesium is clinically proven to relieve anxiety and stress while providing a natural boost of magnesium and 21 other minerals that detoxify and cleanse the epidermis (outer layer of skin). It also relieves psoriasis and eczema, soothes sore muscles, and reduces cramping.
Lavender essential oils promote relaxation and relieve anxiety. Lavender also helps with insomnia, eczema, cramps, and nausea.
Roman Chamomile essential oils promote relaxation and reduce inflammation.
The combination of Epsom Salts, Dead Sea Magnesium, and Lavender / Chamomile essential oils work wonders to promote a restful night's sleep.
Each of our bath bombs is hand-made in North Carolina!
Product Features:
100% Natural Ingredients

Safe for Kids

Made in the USA

9 Pack = More Bang for Your Buck

Calms baby and active kids down for bedtime

No artificial fragrances, chemicals, dyes, or detergents

Enhanced with Lavender and Chamomile Essential Oils for Improved Sleep

Uses Highly Absorbable Dead Sea Magnesium Salts

Non-toxic, non-irritating, hypoallergenic, gluten-free

No Sodium Lauryl Sulfoacetate (SLSA) - commonly used in bath bombs for its foaming properties but can cause skin irritation such as eczema

No parabens, no phthalates, no sulfates, no silica, no triclosan, no synthetic fragrances