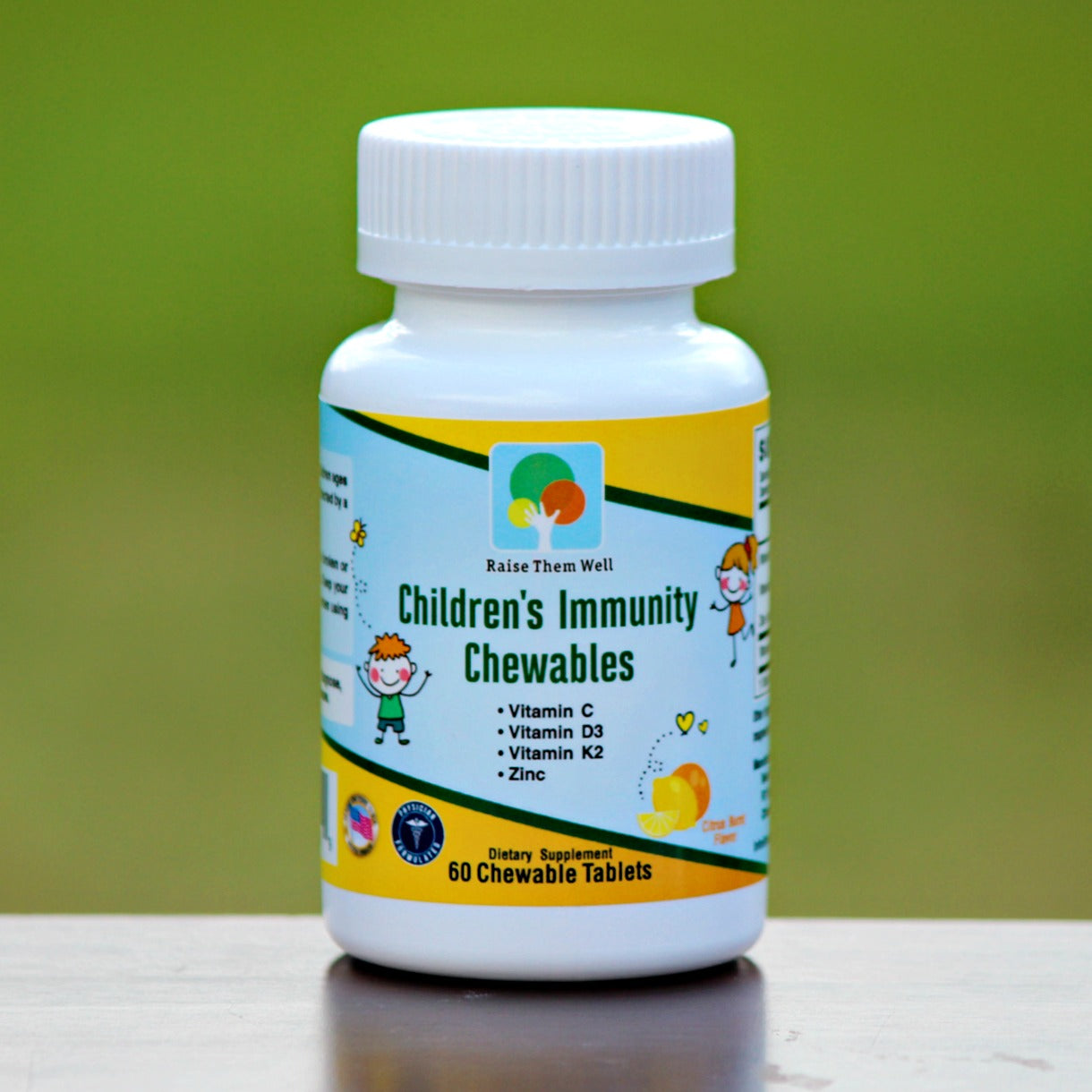 Kids' Immune Support Chewable with All-Natural Colors, Flavors, and Sweeteners
$32.99 USD $40.99 USD
Raise Them Well Kids' Immunity Chewable - a delicious and effective immune support supplement that boosts your child's immune system! These chewable tablets are specially formulated for kids ages 4 and up with a unique blend of vitamins and minerals that are essential for maintaining a healthy immune system. And each bottle contains a 60-day supply!
Each tablet contains a powerful combination of:
Vitamin C
Vitamin D3
Vitamin K2
Zinc
naturally sweetened with Monk Fruit Extract.
These all-natural ingredients work together to strengthen your child's immune defenses and promote overall health and well-being. Our Immunity Chewables are also non-GMO and free of artificial colors, flavors, and preservatives, making them a safe and healthy option for your little ones.
Here, Dr. Wiggy explains more about the ingredients:
Our Kids' Immune Support Chewable is easy and convenient to use - simply give your child one tasty tablet daily to help support their immune system. With its delicious Citrus Burst flavor and fun chewable form, your child will love taking their daily dose of immune-boosting vitamins.
Raise Them Well's Immunity Chewables enhance wellness while keeping things simple for parents and can be safely used in combination with other Raise Them Well supplements. A win for all!
So why wait? Give your child the immune support they need to stay healthy and active all year round with Raise Them Well Children's Immunity Chewable. Order now and see the difference it can make in your child's health and well-being!
Essential Ingredients in Our Kids' Immune Support Chewable Tablets:
Vitamin C
Vitamin D3
Vitamin K2
Zinc

Other Ingredients:
Sorbitol, dextrose, natural flavor and color, magnesium vegetable stearate, luo han guo (monk fruit extract)
Suggested Use:
Use only as directed. Children ages 4 to 12 take 1 chewable per day or as directed by a physician.
Do not use if the safety seal is broken or missing. Keep out of reach of children. Store tightly closed in a cool, dry place. Keep your licensed healthcare provider informed when using this product.
Frequently Asked Questions:
1. Can I take the Immunity Chewable along with the Children's Chewable Vitamin and/or Mag-Focus?

Yes! The Raise Them Well Immunity Chewable is actually designed to work together with the Children's Chewable Vitamins. Mag-Focus contains different nutrients that are safe to take with the Immunity Chewable as well.

2. Can I give my child under 4 the Immunity Chewable?

We are unable to make specific recommendations since ours are based on FDA-suggested dosing, but some parents might choose to give the Immunity Chewable to younger children. We encourage you to talk to your doctor for personal recommendations.

3. Can I give the Immunity Chewable to my teenager?

Yes! Teenagers will likely need to take two immunity tablets for appropriate dosing. We generally recommend 2 immune booster tablets for children over 80 pounds or 12 years of age. Ask your physician for personal recommendations.

4. Can I take the Immunity Chewable myself?

Yes! We recommend 2 to 3 chewables per day for adults based upon body weight. Roughly 1 chewable per 50 pounds of body weight.

5. Can my kids take the Immunity Chewable year-round?

Yes! It's safe to consider taking the chewable year-round to keep the immune system strong. Talk to your physician for specific recommendations.

6. Should my child take anything else for immunity?

We do recommend that most children take additional Vitamin D3 with K2 (our Baby Drops are perfect) during the cold winter months when levels are generally lowest. Ask your physician for specific recommendations.
Learn More About Supporting Your Child's Immune System:
Soldiers for Immunity with Dr. Wiggy
Sickness is all around us and the messages about how to avoid it are even more prevalent. Why aren't more doctors and healthcare providers talking about boosting the immune system? I don't have the answer to that, but I do find it disheartening.  As an Integrative Medicine physician, two of the basic principles of Integrative Medicine are to...