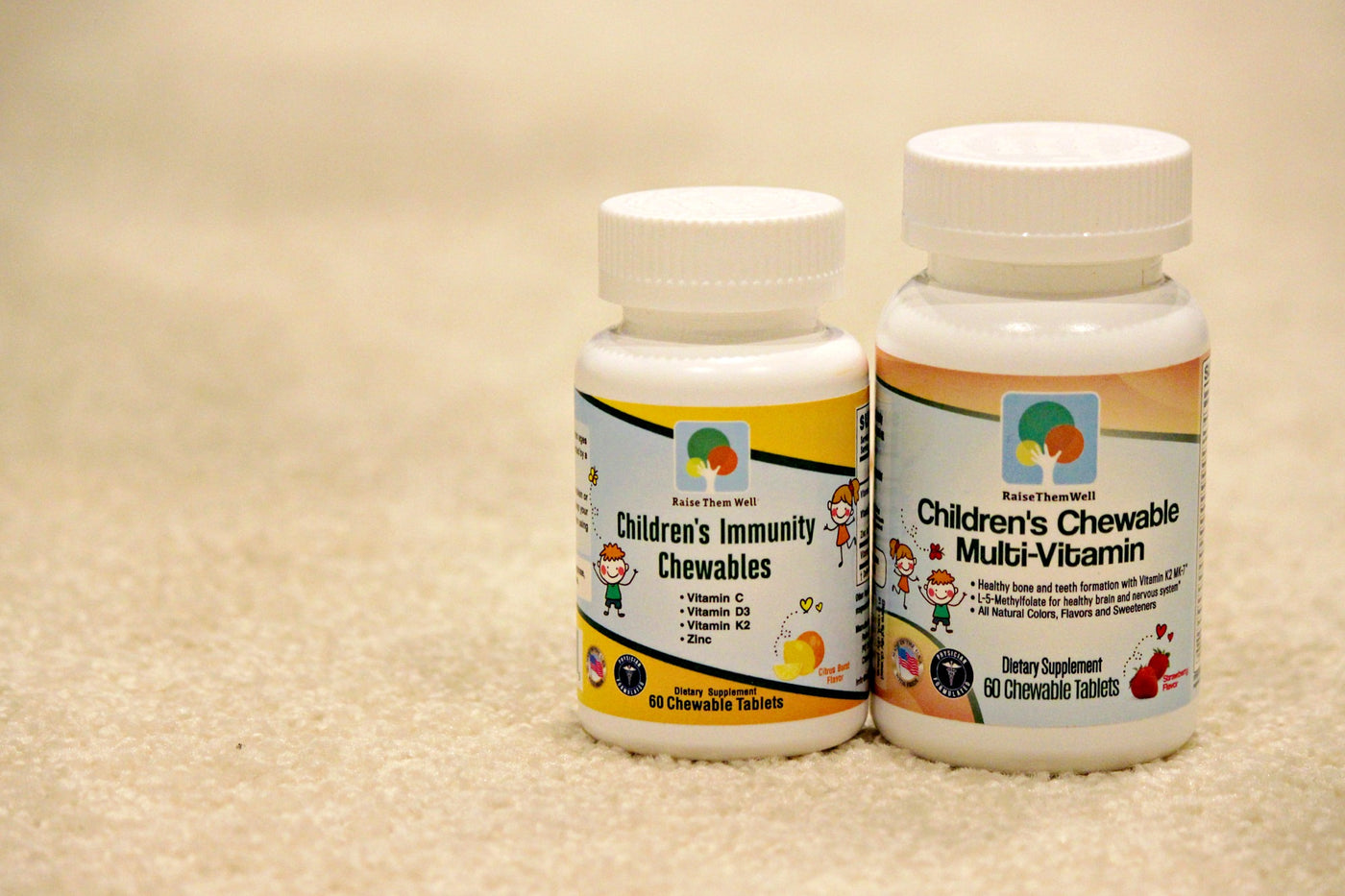 Bundle and Save: Kids Wellness Bundle | Essential Supplements for Kids
$46.20 USD $54.98 USD
All parents want their kids to stay WELL, and our Kids Wellness Bundle is the #1 solution for families! 
20 essential vitamins & minerals that support immunity, growth, and development in two tasty chewable tablets a day: 
Children's Immunity Chewable
Children's Chewable Multivitamin
Raise Them Well products are made of the highest-quality, most bio-available ingredients for maximum absorption and optimal benefits. Designed by a physician and mom team for use with their own kids, Raise Them Well products are trusted by parents for being effective, safe, and easy to use.

Free from the Top 8 Allergens
No preservatives or fillers
No artificial colors, flavors, or sweeteners
No sugar
ToxicFree® Certified: Independently tested and certified to meet standards for quality, safety, and label claims
About The Products in the Kids Wellness Bundle
Children's Immunity Chewable is a once-daily tablet for kids ages 4 and up that tastes great and provides 4 key vitamins and minerals known to boost natural defenses against illness and support immunity:
Vitamin C
Vitamin D3
Vitamin K2
Zinc
Kids love the Citrus Burst flavor!

And the Immunity Chewable can safely be used with other Raise Them Well products.
Children's Chewable Multivitamin is a once-daily kids' vitamin that provides 20 essential vitamins and minerals for optimal support of children's growth and health.
You'll notice that our Children's Multivitamin contains more than the recommended daily amount (RDA) of 10 key vitamins and minerals:
Vitamin A
Vitamin C
Vitamin E
Thiamine
Riboflavin (Vitamin B2)
Vitamin B6
Folate
Vitamin B12
Biotin
Pantothenic Acid
That's because growing bodies need more than the minimum RDA to support kids' wellness and the development of healthy tissues, bones, teeth, and brains.

And we use the most bio-available forms of ingredients for maximum absorption and effectiveness - like Vitamin K2 MK-7 instead of K1, methylfolate instead of folic acid, and methyl B12 instead of cyanoB12.
Kids love the natural strawberry flavor.
If you want to stop flushing money and nutrients down the toilet, give Raise Them Well's Children's Chewable Multivitamin a try!
Frequently Asked Questions:
1. Can I take the Immunity Chewable along with the Children's Chewable Vitamin and/or Mag-Focus?

 
Yes! The Raise Them Well Immunity Chewable is actually designed to work together with the Children's Chewable Vitamins. Mag-Focus contains different nutrients that are safe to take with the Immunity Chewable as well.
2. Can I give my child under 4 the Immunity Chewable?
We are unable to make specific recommendations since ours are based on FDA suggested dosing, but some parents might choose to give the Immunity Chewable to younger children. We encourage you to talk to your doctor for personal recommendations.
3. Can I give the Immunity Chewable to my teenager?
Yes! Teenagers will likely need to take two chewables for appropriate dosing. We generally recommend 2 chewables for children over 80 pounds or 12 years of age. Ask your physician for personal recommendations.
4. Can I take the Immunity Chewable myself?
Yes! We recommend 2 to 3 chewables per day for adults based upon body weight. Roughly 1 chewable per 50 pounds of body weight.
5. Can my kids take the Immunity Chewable year-round?
Yes! It's safe to consider taking the chewable year-round to keep the immune system strong. Talk to your physician for specific recommendations.
6. Should my child take anything else for immunity?
We do recommend that most children take additional Vitamin D3 with K2 (our Baby Drops are perfect) during the cold winter months when levels are generally lowest. Ask your physician for specific recommendations.
Have additional questions? Check out our FAQs.
Resources From Our Blog:
Soldiers for Immunity with Dr. Wiggy
Sickness is all around us, and the messages about how to avoid it are even more prevalent. Why aren't more doctors and healthcare providers talking about boosting the immune system? I don't have the answer to that, but I do find it disheartening.  As an Integrative Medicine physician, two of the basic principles of Integrative Medicine are to...