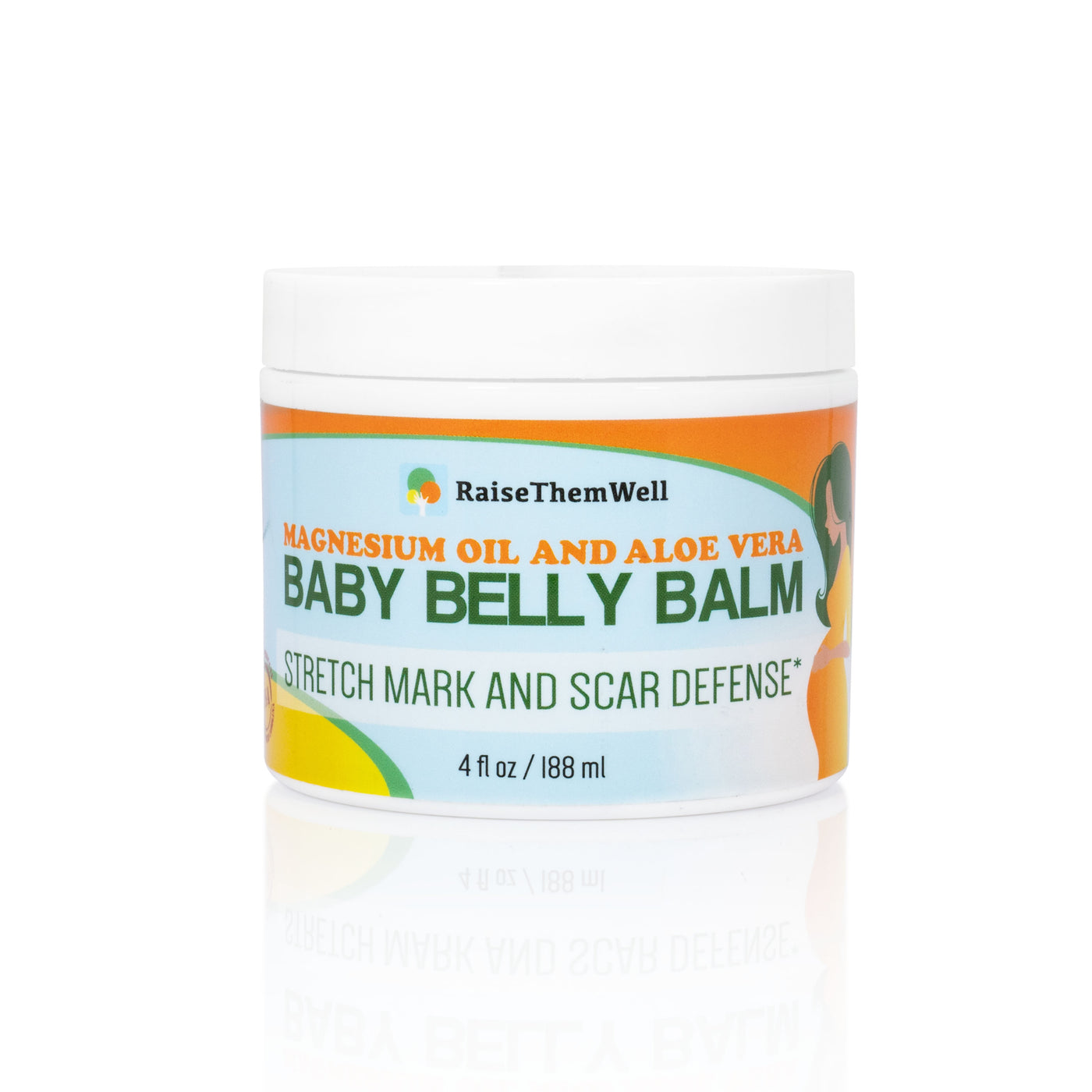 Baby Belly Balm Stretch Mark & Scar Defense With Magnesium
$30.00 USD $39.99 USD
Our Baby Belly Balm Stretch Mark and Scar Defense is an all-natural stretch mark treatment that:
Prevents pregnancy stretch marks effectively
Hydrates and soothes dry, itchy skin with a clean, non-greasy formula
Increases skin elasticity
Promotes healing and fading of scars
Contains only natural ingredients that are safe for mom and baby
When it comes to stretch marks, an ounce of prevention is better than treatment after stretch marks have formed.
Why Expecting Moms Love Baby Belly Balm:
Uniquely formulated with Magnesium Oil to support healthy tissue expansion and prevent stretch marks
No synthetic chemicals: No parabens, sulfates, VOCs, or other hormone disruptors that could be harmful to developing babies
No dyes, artificial colors, or synthetic fragrances
Keeps skin moisturized all day
Soft, smooth, glowing skin without feeling greasy
What Makes Baby Belly Balm Different from Other Stretch Mark Creams and Stretch Mark Treatments
Other stretch mark creams often contain synthetic ingredients and other toxins that disrupt hormones and are particularly damaging to a developing baby.
These stretch mark treatments also do not contain the one key ingredient necessary to prevent stretch marks. Magnesium Oil.
When you're expecting, it's so important to read the label. If a skin care product contains a lot of ingredients you don't recognize, it's probably best to avoid it.
Raise Them Well Baby Belly Balm is a safe and effective stretch mark treatment that contains all-natural ingredients you will easily recognize.
Active Ingredients:
Dead Sea Magnesium oil relaxes soft tissues and supports healthy tissue expansion
Aloe Vera reduces itching, accelerates healing, and improves skin condition
Jojoba oil nourishes and deeply hydrates skin
Coconut oil moisturizes skin, reduces inflammation, and promotes healing
Lavender essential oil soothes the skin and senses
Directions:
Apply Baby Belly Balm stretch mark treatment to belly and breasts two times per day
For best results, apply regularly
NOTE:  Some mild irritation may occur on dry or cracked skin. This is normal and will pass after a few minutes.