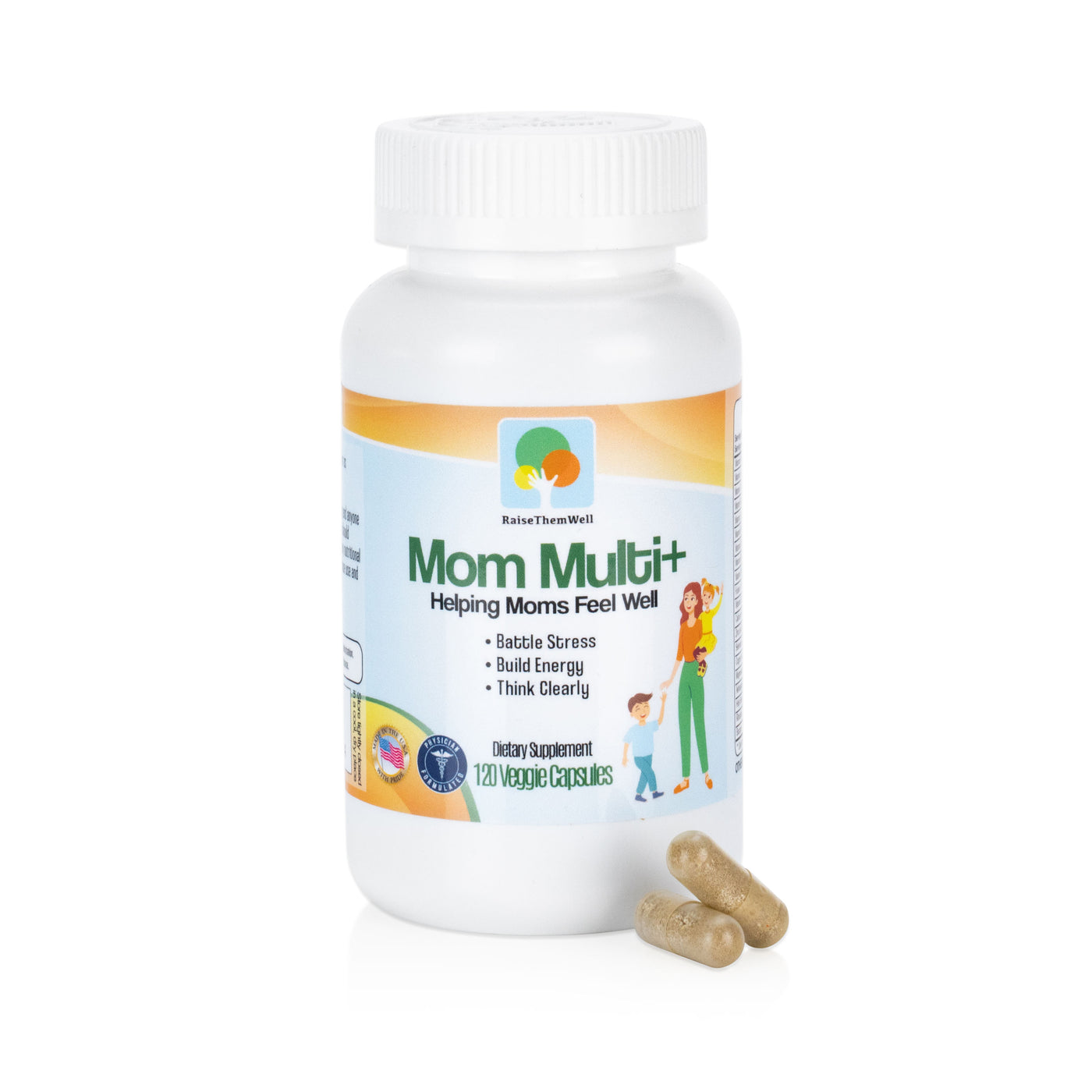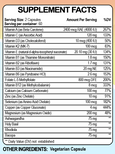 Mom Multi+ Multivitamin for Women
$27.00 USD $34.99 USD
Our Mom Multi+ is a complete daily non-GMO multivitamin designed specifically for women who are not currently pregnant or breastfeeding. Specially formulated with essential vitamins and minerals that support women's health and wellness, two capsules daily will help you:
Combat stress
Build energy
Think clearly
Feel well
Mom Multi+ Provides the Right Blend of Essential Nutrients for Optimal Health
Women need more than the minimum RDA for optimal health. This daily women's vitamin is physician-formulated to provide the highest quality, most effective nutrients for the results you want:
Energy and Metabolism
Optimal levels of B vitamins for improved energy.
Helps boost energy levels and combat stress with Ashwagandha, Holy Basil, and Rhodiola.*
Brain Health
Helps to improve brain function and memory and clear brain fog with Bacopa.*
Immune Health and Healing
Supports a healthy immune system and promotes healing with extra Vitamin A, Vitamin C, Vitamin E, Vitamins D3 and K2 (MK-7), Selenium, and Zinc.
Skin and Eye Health
Supports healthy skin with extra Vitamin A, Vitamin C, and Zinc.
Improves skin elasticity and combats signs of aging with extra Copper.
Supports healthy eyes and skin with extra Vitamin E.
Bone Health
Supports healthy bones and teeth with Calcium and Vitamins D3 and K2 (MK-7).
Blood Health
Combats iron deficiency anemias and iron storage disorders with extra Copper.
Promotes red blood cell formation with Methylfolate.

Mom Multi+ also contains Methylfolate - a B vitamin that is essential for red blood cell formation and healthy cell growth and function.

While most other women's supplements contain the synthetic form of Folate - folic acid, Mom Multi+ contains the natural form of Folate - Methylfolate - because it is used more efficiently in the body.
With its balanced blend of key nutrients, Mom Multi+ helps fill gaps in your diet, boost energy levels, and support overall health. Whether you're a busy mom, a student, or simply looking to maintain a healthy lifestyle, Mom Multi+ is the perfect choice.
Why wait? Start taking Mom Multi+ today and give your body the support it deserves.

* These statements have not been evaluated by the Food and Drug Administration. This product is not intended to diagnose, treat, cure, or prevent any disease.

Essential non-GMO Ingredients:
Vitamin A (beta carotene)
Vitamin C (ascorbic acid)
Vitamin D3 (cholecalciferol)
Vitamin K2 (MK-7)
Vitamin E (natural d-alpha-tocopheryl succinate)
Vitamin B1 (thiamine mononitrate)
Vitamin B2 (riboflavin)
Vitamin B3 (niacinamide)
Vitamin B6 (pyridoxine HCl)
Folate L-5 Methylfolate
Vitamin B12 (methylcobalamin)
Calcium (calcium carbonate)
Zinc (zinc chelate)
Selenium (amino acid chelate)
Copper (copper gluconate)
Magnesium (magnesium oxide)
Ashwagandha
Holy Basil
Rhodiola
Bacopa
Other Ingredients:
Suggested Use:
Take two (2) capsules daily or as recommended by a healthcare practitioner.
Unleashing the Power of Bioavailability, Adaptogens, and Cognitive Clarity with MomMulti+
At Raise Them Well we saw a gap between Prenatal Vitamins and regular Adult (even Women's) Multivitamins. There really wasn't a multivitamin that was made just for moms. This is why we developed MomMulti+. 
While motherhood is a remarkable journey, it is also an extraordinary responsibility that demands physical and mental stamina, and an abundance of energy. To support the incredible efforts of mothers everywhere...
In the pursuit of a healthier lifestyle, women often find themselves searching for the perfect nutritional supplement to support their specific needs. Meet Mom Multi+, our new daily vitamin designed especially for women who are not pregnant or breastfeeding. Physician-formulated and rich in essential nutrients, this revolutionary product is here to help women combat stress, build energy, think clearly, and overall feel well....