Mag-Focus 90 Chewable Tablets- Physician Developed
$24.99 USD
Physician Developed Mag Focus

​May help support brain function.*
​Research based combination of Magnesium and Vitamin B6
​All natural colors, flavors, and sweeteners.
Natural Strawberry Flavor
Use only as directed. Take 2 chewables daily or as directed by physician. Recommended for children ages 4 and up.
*These statements have not been evaluated by the Food and Drug Administration. This product is not intended to diagnose, treat, cure, or prevent any disease.
Finally a chewable children's supplement for focus!  At Raise Them Well our goal has been to produce high quality, natural products for busy families. One of the most common questions we get is "will this help my child focus?"  
Mag-Focus was developed by a physician and uses only the highest quality ingredients and only the most bio-available forms of vitamins.
We also use only all-natural sweeteners such as xylitol and monk fruit without any sugar. Our kids love the strawberry flavor (they say it tastes like yogurt) and we hope your kids will too.

Mag-Focus was created for kids that struggle with attention and sitting still during school and other activities. Based on the latest research on brain chemistry and electrical activity. Multiple studies show positive improvements in indicators of learning and less disruptive behavior when Magnesium and Vitamin B6 are used in combination. Mag-Focus combines the synergistic effect of Magnesium and Vitamin B6 into a great tasting chewable tablet that kids love.
Read More Here:
Customer Reviews
02/07/2020
Stacy L.
United States
My picky kid doesn't complain
We have been giving my son a magnesium and B12 supplement already. It was a drinkable one. We traded out his morning does of that with these chewables. He much prefers these! My only complaint about these is that there are *many* broken tablets. When we get down to only having the broken ones left I'll have to puzzle piece together the correct dose. Obviously, this isn't ideal, but I hate to waste so much of what is left.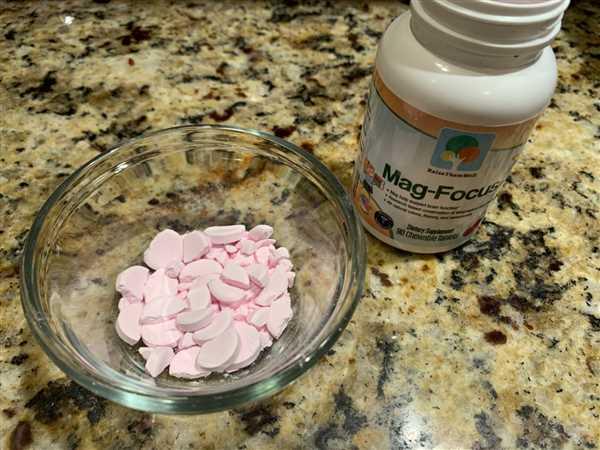 02/04/2020
Chelsea N.
United States
Mag Focus Review
My daughter is a high energy 10 year old. She can struggle at times with focus/staying on task/being extra chatty and as the hormones are starting to get ramped up we've noticed an increase in her anxiety level at times. We get feedback from teachers that she has difficulty staying on task in class. She has been taking two chewable tabs every morning since we received our bottles from the 1-10-2020 product launch. We have waited to give feedback until I had some tangible results. Well today is the day I am giving feedback because this is the feedback we have gotten from her teachers over the past week. I think it speaks volumes. This is not the normal feedback we get. "Excellent independent work time today" "Great job staying on task today during group activity" And last but not least... "Amazing focus today during rotations" I said NOTHING to her teachers about starting this product or that anything has changed in her routine. Thank you Dr. Wiggy and everyone at RTW for this product!!!
01/30/2020
Molly E.
United States
Kids love these!
my almost four-year-old and almost 6 year old both absolutely love these. They say they taste like pink marshmallows :-) I can confirm that do! I don't know that I have seen a difference in giving them just two at a time but when I give them 4, I feel my son is much more settled and focused when I give him direction or ask him to do something. I will definitely keep giving them knees and report back in a couple months...
01/29/2020
Kellan V.
United States
Helpful and Tasty!
I have a wiggly 7 year old boy who has trouble focusing as we homeschool each day. We started with just 1 tablet each day, and that has been truly helpful in getting things done each day. I can see a difference between the days he takes it and the days he doesn't. He loves the flavor and even asks for his "Focus vitamins."
01/10/2020
Peggy I.
United States
Highly Recommend
Jacob (16) has been taking Mag-Focus for about 3 weeks. Although we cannot see a dramatic difference, I believe he has been more focused than usual. I homeschool Jacob, and this is our first week back to school since the holidays. He seemed to be more attentive, especially on the subjects he is not fond of. I have noticed in the last few days that his overall attitude has been more pleasant than usual. He does not mind taking these vitamins. He likes the taste. He has taken them the last week without me reminding him. I highly recommend this product. I believe it is already working on a hard-to-focus 16 year old.
01/10/2020
Raise Them Well
Thank you for your review!