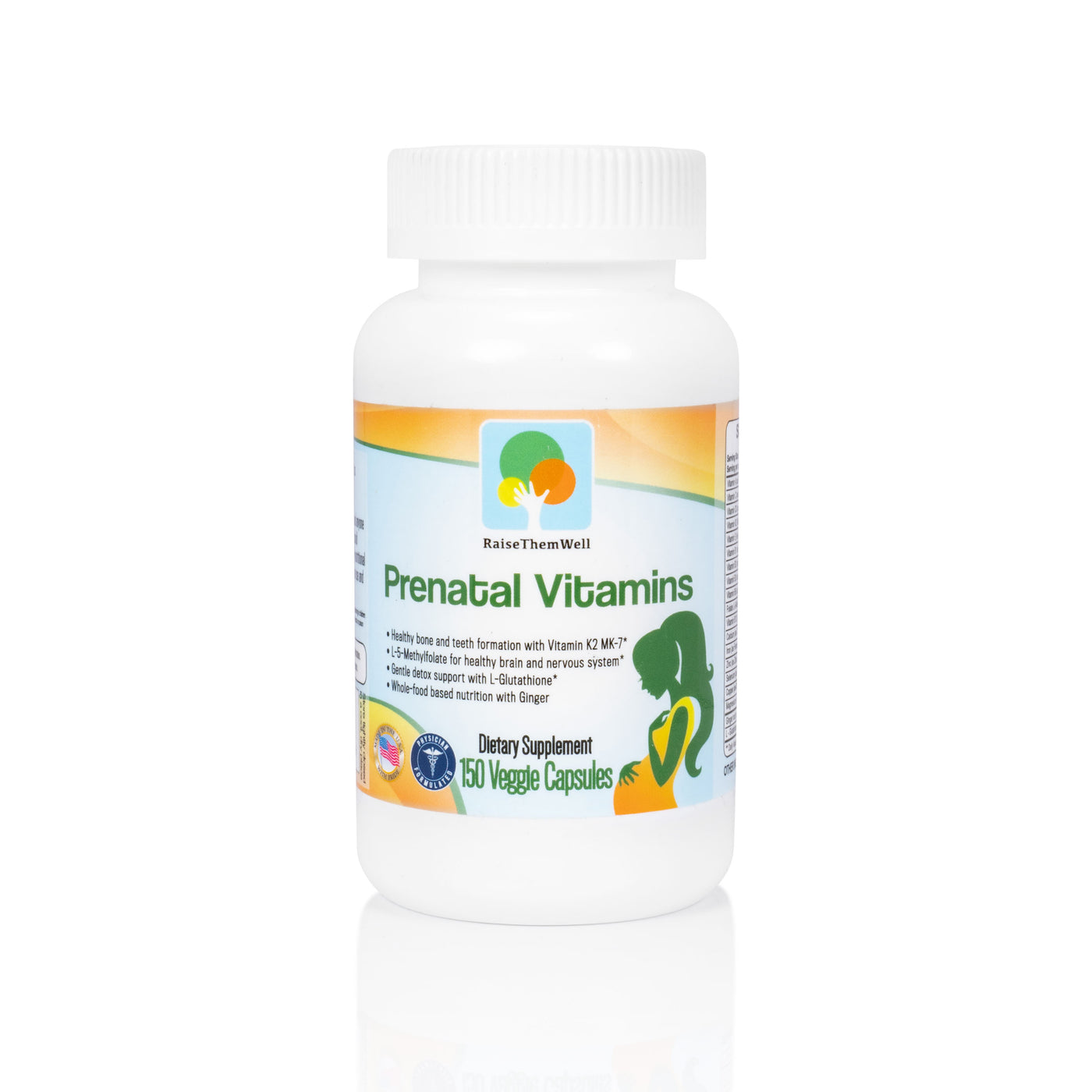 Physician Developed Prenatal Multivitamin for Pregnancy and Breastfeeding
$26.00 USD $34.99 USD
Raise Them Well Prenatal Multivitamin is thoughtfully created to support a healthy pregnancy and breastfeeding journey. Designed by an experienced Integrative Medicine physician, this premium non-GMO formula contains essential nutrients that are vital for both you and your baby's health.
No Taste or Smell

non-GMO

Easy to Swallow Veggie Capsules 

Highest-Quality, Most Bio-Available Ingredients

Whole-food Based Nutrition with Ginger
100% Money Back Guarantee
With a comprehensive blend of vitamins and minerals, including Vitamin K2 MK-7, methylfolate, methylcobalamin, and glutathione, our prenatal multivitamin provides optimal nourishment for a growing baby while supporting the mother's overall health. The carefully selected ingredients are also gentle on the stomach and easy to digest, ensuring maximum absorption and effectiveness.
Here's Why Raise Them Well Prenatal Multivitamin Is The Best You Can Find
- Vitamin K2 MK-7 is considered to be the critical ingredient for proper bone, teeth, and jaw development. Without it kids may develop abnormal skeletal structure and crooked teeth.
- Methylfolate is the all-natural source of folate that supports proper brain and nervous system development. Most other prenatal vitamins contain folic acid - a man-made source of folate. Unfortunately, up to 40% of women are unable to metabolize folic acid, leaving their developing babies at risk.
- Methylcobalamin is the active, natural form of Vitamin B12, and it is very important for a healthy brain and nervous system. Unfortunately, most other prenatal vitamins use cyanocobalamin, a man-made source of Vitamin B12 created when B12 is bound to cyanide. (Yes, cyanide - a potentially fast-acting toxin that interferes with the body's ability to use oxygen.)
- Glutathione binds to toxins floating around in the blood and helps mom gently detoxify by eliminating toxins through the urine. Studies have shown that there are hundreds of toxins in the cord blood of babies. It is nearly impossible to completely eliminate your exposure in our toxic world, but glutathione is a great way to gently eliminate them while protecting baby.
Our prenatal multivitamin is perfect for mothers who are planning to conceive, currently pregnant, or breastfeeding. It is free from harmful additives and preservatives and is safe for both mom and baby. Additionally, our product is gluten-free, plant-based, and non-GMO, making it suitable for a wide range of dietary needs.
We believe that every mother deserves the best nutrition during this important time, and that's why we've created our Physician Developed Prenatal Multivitamin. It's the perfect way to ensure that you and your baby are receiving the essential nutrients necessary for a healthy pregnancy and breastfeeding journey. Order now and experience the difference for yourself!
Suggested Use:
Take two capsules daily or as recommended by a healthcare practitioner.
Learn More About Our Prenatal Multivitamin:
As an Integrative Medicine physician, I find the new research about the  importance of proper nutrition from Day 1 for babies fascinating.  I'm not talking about Day 1 after birth, I'm talking about Day 1 at conception.  It is now becoming abundantly clear...
Is the Raise Them Well Prenatal Vitamin only for pregnant and nursing women? What a great question! The answer is No! Our prenatal vitamin is fantastic for all women and teens, not just pregnant and nursing women for lots of reasons...