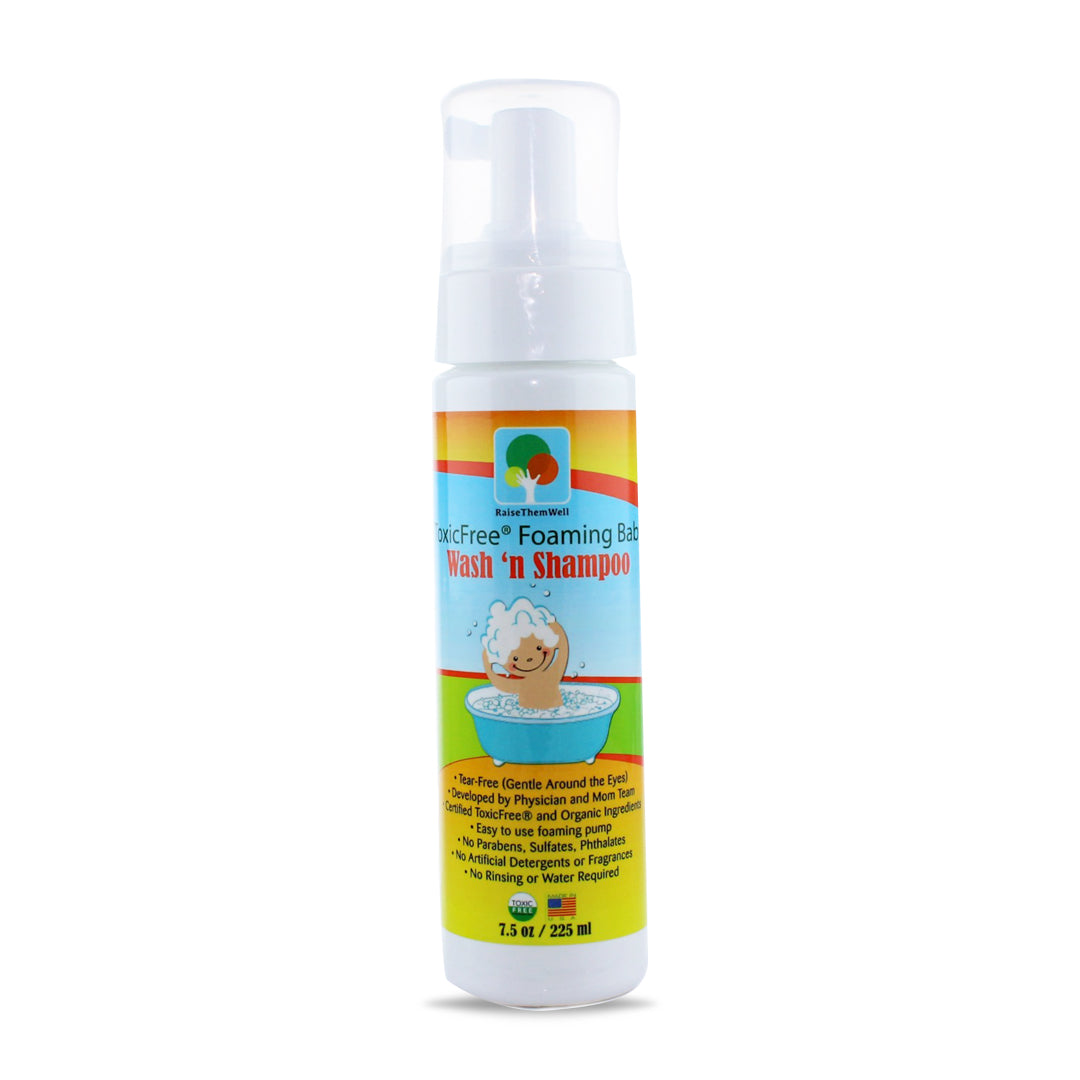 Certified ToxicFree® Foaming Baby Shampoo and Body Wash
$17.50 USD $21.99 USD
Raise Them Well Foaming Wash N' Baby Shampoo - the gentle, yet effective solution for your baby's delicate skin.

Tear-free, hypoallergenic formula that's effective and smells great!
Easy-to-use foaming pump that kids can use by themselves
Certified by the ToxicFree® Foundation to be 100% free of any chemicals, toxins, or hormone disruptors
Uses only all-natural and organic ingredients that are proven to be safe for the whole family
No parabens, sulfates, phthalates, artificial detergents or fragrances
Our baby shampoo and body wash is made with all-natural, plant-based ingredients that are free from harmful chemicals, toxins, and synthetic fragrances. Its gentle formula is specially designed to cleanse your baby's skin without stripping away the skin's natural oils, leaving it soft, smooth, and nourished.

Formulated with soothing lavender oil, our baby shampoo and body wash helps to calm and soothe your baby's skin, making bath time a relaxing and enjoyable experience for both you and your little one.
Our easy-to-use pump bottle ensures that you can quickly and easily dispense the perfect amount of shampoo and body wash, without any mess or fuss. And, because it's gentle enough for everyday use, you can rest assured that your baby's skin will be clean, fresh, and healthy at all times.
We make our products with busy parents in mind, so this foam works fabulously without the need to submerge your baby in water. Simply add the foam to a damp cloth and gently wipe your baby clean.
At Raise Them Well, we aim to create versatile products for the whole family. This baby shampoo and body wash is a gentle and effective cleanser that can be used for kids of all ages and even by Mom and Dad. It's especially useful as a gentle facial cleanser for teens and adults.
Trust Raise Them Well Baby Shampoo and Body Wash to give your baby the care and attention they deserve. Try it today and experience the gentle, natural cleansing power of our premium baby shampoo and body wash.
Ingredients:
Purified water
Sodium Lauroyl Sarcosinate (sarcosyl) - a gentle cleansing and foaming agent
Sodium Chlorite - stabilized oxygen that safely cleans and disinfects
Vegetable glycerin - soothes and hydrates skin while protecting against infection and promoting healing
Lavender essential oil - proven antibacterial and anti-inflammatory that also helps calm, soothe, and relax
Directions:
Gently clean your baby or toddler by pumping a small amount of foam directly to wet or dry skin and/or hair or onto a moist cloth. Rinsing is not required. Foam can also be added directly to bath water if desired. This product is gentle around the eyes, but if irritation occurs, rinse eyes with plain water.
When Adler was a newborn baby, we tried oodles of products that claimed to be "clean," and "natural," and "organic," etc.  (see this article for more) and were left really frustrated by false claims and articles that we read about company practices.  After much searching and trying, we couldn't find anything that we really loved that was 1. user-friendly, 2.  worked well, 3.  affordable, and 4.  readily available. So what did we do?  We made our own!!! Our Raise Them Well Foaming Baby Shampoo N' Wash is one of my favorite products for SO many reasons:  1. Certified TOXIC FREE...
NO. The FDA does not certify organic or toxic-free personal care, household cleaner, or cosmetic products.  Actually, the reins are quite loose when it comes to labeling standards in the US.  That's the cold hard truth.  Product formulators can write just about anything they want to on their labels and get away with it. It's nonsense really, but it's reality, and it means that reading labels or only supporting companies that openly share their product ingredients is more important than ever! A few examples: NATURAL Products labeled "natural" can still be processed with harmful chemicals. ORGANIC A company can label their...
I've mentioned before about the lack of regulation and standards in the personal care products industry, but I think it's really important to keep talking about it.  Unfortunately, too many families trust products as safe just because they're on store shelves and say they are "non-toxic". Did you know that non-toxic means that only 49% or fewer of lab animals DIED when exposed to the chemical or product?  I'm guessing you would agree with me that you don't want a product with 49% lethal power in mice to be on your family's skin or teeth. There are countless products available...