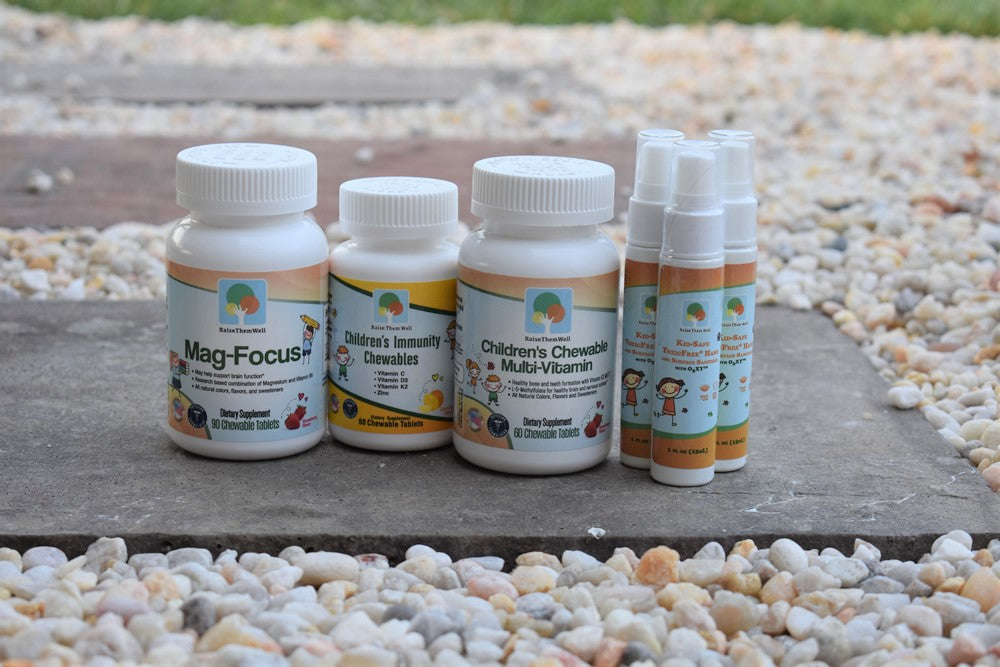 Bundle and Save: Back to School Essentials
$81.15 USD $96.80 USD
Back to School Bundle: Parents' favorite way to save up to 20% on back-to-school essentials for kids!
The Back to School Bundle includes four full-size products that work together to support kids' immunity, growth, and development:
Children's Immunity Chewable
Children's Chewable Multivitamin
Mag Focus
Hand and Surface Sanitizer Spray 3-pack
Parents love that Raise Them Well products are certified ToxicFree® and made of the highest quality, non-GMO ingredients. We choose the most bio-available forms for all of our vitamins and supplements to ensure maximum absorption and ultimate health benefits.

Our products contain ONLY natural flavors and colors, with no sugar or artificial sweeteners - and no gross fillers.
About the Back to School Bundle Products:
Children's Immunity Chewable is specially designed to help kids - ages 4 and up - stay WELL and can safely be taken with our other children's vitamins and supplements.
Our immunity chewable contains 4 key ingredients known to help boost natural defenses against illness:
Vitamin C
Vitamin D3
Vitamin K2
Zinc
Just ONE chewable per day is all it takes to easily boost kids' immunity.

The best part? The Citrus Burst flavor is loved by kids everywhere.
Raise Them Well's Immunity Chewables enhance wellness while keeping things simple for parents. A win for all!
Children's Chewable Multivitamin is a once-daily kid's vitamin that tastes great. Parents love that Raise Them Well Children's Chewables contain:
All-natural colors, flavors, and sweeteners
Vitamin K2 MK-7 for healthy bone and teeth formation*
L-5-Methylfolate for brain and nervous system health*
No sugar - uses only xylitol and monk fruit for sweeteners
No fillers
Incredible strawberry flavor that kids love
At Raise Them Well, our goal has been to produce high-quality, natural products for busy families. We use only the most bio-available forms of vitamins to ensure your children get maximum benefits in every dose - like Vitamin K2 (instead of K1), methylfolate (instead of folic acid), and methylB12 (instead of cyanoB12).

ONE chewable multivitamin per day provides 20 essential vitamins and minerals for healthy growth and development.
Physician Developed Mag Focus is designed to support brain health and mental focus in children ages 4 and up.
May help support brain function.*
Research-based combination of Magnesium and Vitamin B6
All-natural colors, flavors, and sweeteners
Natural Strawberry Flavor
The latest research on brain chemistry and electrical activity shows positive improvements in indicators of learning and less disruptive behavior when Magnesium and Vitamin B6 are used in combination.

Mag Focus combines the synergistic effect of Magnesium and Vitamin B6 into a great-tasting chewable tablet for children who struggle with attention and sitting still during school and other activities.
Kids say the strawberry flavor tastes like yogurt, and we hope your kids love it too!
Kid-Safe Hand and Surface Sanitizer 3-pack uses stabilized oxygen to safely clean and disinfect hands and surfaces without drying out the skin. The 1-oz spray bottle is the perfect size for little hands and can be easily tucked into a backpack or purse for on-the-go cleaning.
Free of harmful chemicals like alcohol and bleach
Effective against bacteria, viruses, and SARS-CoV-2 (COVID-19, Coronin)
Safe to use all over the body, on surfaces, and around pets
ToxicFree® Certified: Independently tested and certified to meet standards for quality, safety, and label claims
* These statements have not been evaluated by the Food and Drug Administration. This product is not intended to diagnose, treat, cure, or prevent any disease.

Answers to Some of the Most Frequently Asked Questions:
1. Can I take the Immunity Chewable along with the Children's Chewable Vitamin and/or Mag-Focus?

 
Yes! The Raise Them Well Immunity Chewable is actually designed to work together with the Children's Chewable Vitamins. Mag-Focus contains different nutrients that are safe to take with the Immunity Chewable as well.
2. Can I give my child under 4 the Immunity Chewable?
We are unable to make specific recommendations since ours are based on FDA-suggested dosing, but some parents might choose to give the Immunity Chewable to younger children. We encourage you to talk to your doctor for personal recommendations.
3. Can I give the Immunity Chewable to my teenager?
Yes! Teenagers will likely need to take two chewables for appropriate dosing. We generally recommend 2 chewables for children over 80 pounds or 12 years of age. Ask your physician for personal recommendations.
4. Can I take the Immunity Chewable myself?
Yes! We recommend 2 to 3 chewables per day for adults based upon body weight. Roughly 1 chewable per 50 pounds of body weight.
5. Can my kids take the Immunity Chewable year-round?
Yes! It's safe to consider taking the chewable year-round to keep the immune system strong. Talk to your physician for specific recommendations.
6. Should my child take anything else for immunity?
We do recommend that most children take additional Vitamin D3 with K2 (our Baby Drops are perfect) during the cold winter months when levels are generally lowest. Ask your physician for specific recommendations.

Have additional questions? Check out our FAQs.
Soldiers for Immunity with Dr. Wiggy
Sickness is all around us, and the messages about how to avoid it are even more prevalent. Why aren't more doctors and healthcare providers talking about boosting the immune system? I don't have the answer to that, but I do find it disheartening.  As an Integrative Medicine physician, two of the basic principles of Integrative Medicine are to...
Customer Reviews
10/03/2021
Miriam P.

United States
Back to School Bundle
Love all these products! I love the fact that they are not filled with bad things, and that they are not gummies. My grandson started taking them and they have helped him be more focused and boosted his immune system in this crazy time of the Delta variant. Thanks for all you do for our children. Keep up the great work! Love your pod casts also