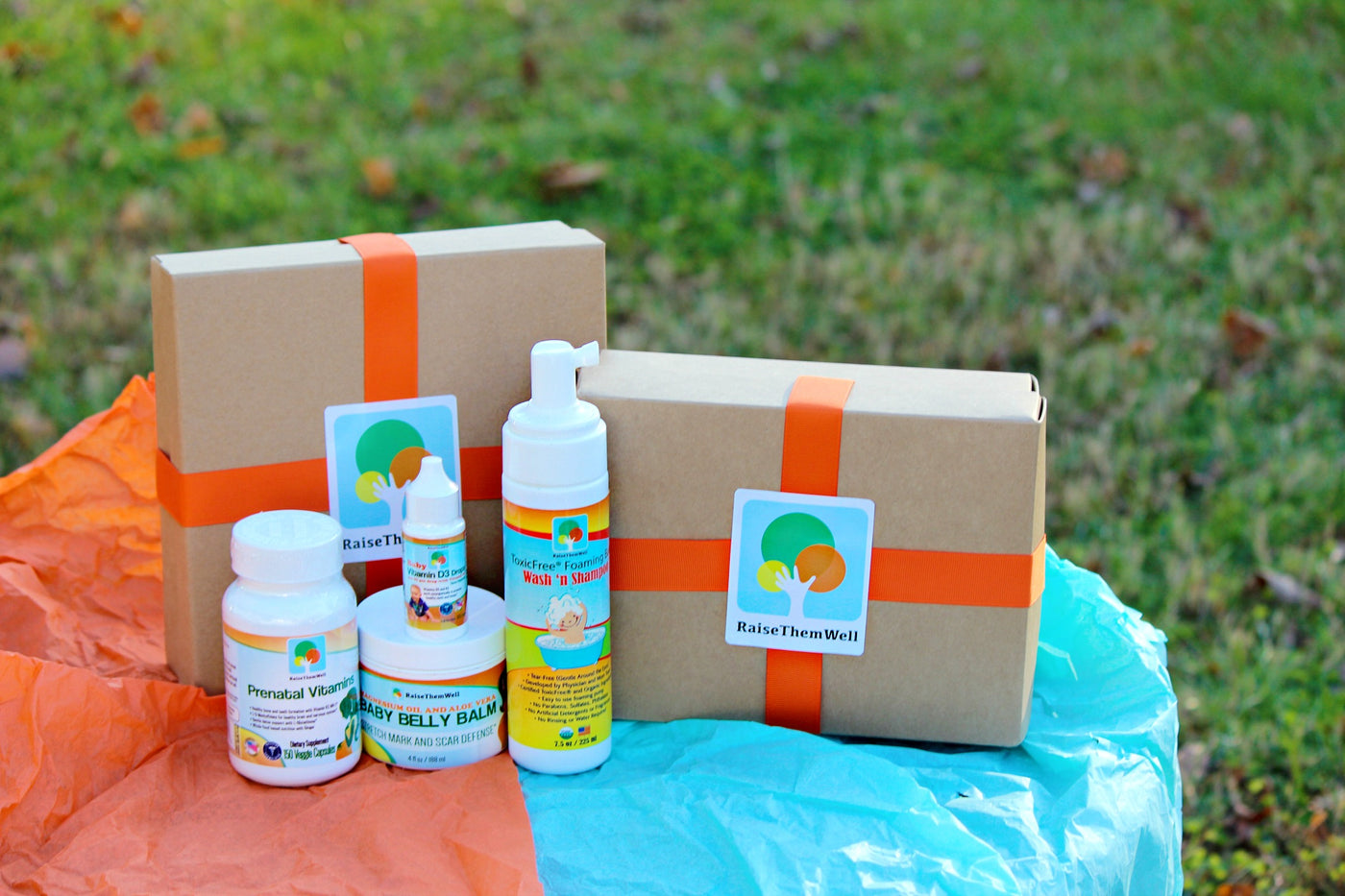 Baby Shower Gift Box: Belly Balm, Vitamin D, Baby Wash, Prenatal
$88.50 USD $109.94 USD
Arriving already boxed and ready to take (or send) to the baby shower, this gift box contains Belly Balm, Vitamin D3 and K2 Drops for Babies, ToxicFree Foaming Baby Wash 'N Shampoo, and Prenatal and Breastfeeding Vitamin.
Belly Balm
Contains only natural ingredients so it is safe for mom and baby

No parabens, sulfates, VOCs or other potential hormone disruptors

Formulated with magnesium oil to support healthy tissue expansion and prevent stretch mark

Keeps the skin moisturized all day without feeling greasy
Looking for an all-natural, chemical-free, belly moisturizer that is uniquely formulated to prevent stretch marks?  
Then look no further.
There are several problems with most of the belly balm and stretch mark creams available.
They are full of synthetic chemicals like parabens, sulfates and other hormone disruptors. These toxins are particularly damaging to a developing baby.
They do not contain the one key ingredient necessary to prevent stretch marks. Magnesium Oil. We only use all-natural, toxic-free ingredients so our balm is safe for moms and babies. No hormone disruptors here.
Our balm is uniquely formulated to prevent stretch marks. It contains authentic Dead Sea Magnesium Oil infused with Aloe Vera, Jojoba & Coconut oils and enhanced with Lavender essential oil. Magnesium oil is THE necessary ingredient that helps support healthy skin as it stretches. Magnesium Oil, along with the all-natural ingredients, helps to moisturize the skin and relax the soft tissues so stretch marks are minimized or avoided completely. Raise Them Well Baby Belly Balm leaves the skin feeling soft and smooth all day without feeling greasy. We are confident that this is the best Baby Belly Balm for preventing stretch marks.
Vitamin D3 and K2 Drops for Babies
VITAMIN D3 is incredibly important for cell growth, neuromuscular and immune function, and reduction of inflammation. Many studies also have linked vitamin D [deficiency] to cardiovascular disease, many cancers, gene expression, seasonal affective disorder, multiple sclerosis, autoimmune disorders, and insulin resistance.  Vitamin D3 is also responsible for calcium absorption.

VITAMIN K2 is underutilized in children and adults, but is imperative for delivering calcium to the cells for bone and tooth development and strength.

STUDIES SHOW THAT OVER 60% OF THE PEDIATRIC POPULATION IS DEFICIENT IN VITAMIN D3
WHAT MAKES RAISE THEM WELL VITAMIN D AND K2 DROPS SUPERIOR?

PHYSICIAN FORMULATED. Synergistic blend of Vitamin D3 and K2 for optimal bone and teeth health.*  Controlled Dropper Tip for Precise, 1-Drop Dosing. 400 IUs of Vitamin D3 per Drop. 365 Servings (0.36 fl oz/10 ml))

SUPERIOR INGREDIENTS. Vitamin D3 from lanolin (sheep's wool), Vitamin K2 MK-7 from K2Vital (flower extract), Non-GMO coconut and palm oil as the base.

EASE OF USE. Controlled Dropper Tip for precise, 1-drop dosing. No more messes.

PHARMACEUTICAL GRADE, BPA-FREE BOTTLE. Same dropper used for medicated drops.
Only Baby Vitamin D3 Drops with Vitamin K2. There is convincing evidence that Vitamin D3 needs to be combined with Vitamin K2 for maximal benefit. Without Vitamin K2, Vitamin D3 may be doing little for proper bone and teeth development.
Physician and Mom Team Developed This Vitamin D3+K2 Combination Because They Couldn't Find One For Their Children. They used only the best ingredients: Vitamin D3 from Lanolin, Vitamin K2 MK-7 from flower extracts, and Non-GMO coconut and palm oil.
Not Only That, They Also Wanted Something That Was Easier to Use With Squirmy Kids. So, they used a pharmaceutical grade dropper bottle with controlled dropper tip so that you can be confident that you are only going to get one drop at a time.
Please Do Your Research and Choose Vitamin D3 with K2 for Your Baby.
As an Integrative Medicine physician, I am always looking for ways to improve the underlying health of my patients.  I do not like to wait for diseases to develop before starting treatment; I like to set the stage for the body to be healthy...
I don't know about you, but I often feel like the people who created those medicine droppers for children's medicines and supplements clearly never had kids.  I mean- how am I supposed to hold my baby while...
I've mentioned before about the lack of regulation and standards in the personal care products industry, but I think it's really important to keep talking about it. Unfortunately, too many families trust products as safe...
Foaming Baby Wash 'N Shampoo
Certified by the ToxicFree® Foundation to be 100% free of any chemicals, toxins, or hormone disruptors.

Uses only all-natural and organic ingredients that have been proven to be safe for the whole family

No parabens, sulfates, phthalates, artificial detergents or fragrances

Gentle, tear-free, hypoallergenic, effective, and smells great

Easy to use foaming pump
Want to be sure that the Baby Wash and Shampoo you are using is free of any chemicals, toxins, or hormone disruptors? Then you need a product that is Certified ToxicFree®
Here's the problem with most of the baby soaps and shampoos available...they claim to be safe but have nothing to back that up. It doesn't matter how all-natural, organic, non-toxic something claims to be. If you can't back it up with a certified third party, then safety is just a guess. There have been multiple reports of "organic" products being contaminated with toxins, chemicals, and other hormone disruptors. Don't be fooled.
This is why we have partnered with the ToxicFree® Foundation in order to verify that all of the ingredients in our Wash n' Shampoo are 100% toxic free. The ToxicFree® Foundation also goes beyond that in investigating our manufacturing facility to insure that NO ingredients used in the facility has any known toxicity or potential health effect. With our product you can rest assured that you are using the cleanest, purest, safest product available. It is also gentle, tear-free, hypoallergenic, effective, and smells great. We make our products with busy parents in mind so this foam works fabulously without the need to submerge baby in water. Simply add the foam to a damp cloth and gently clean baby.
At Raise Them Well we aim to create versatile products for the whole family. This cleanser can be used for kids of all ages and even for Mom and Dad. It's especially useful as a gentle facial cleanser for teens and adults.
Certified ToxicFree Ingredients: Purified water, Sodium Lauroyl Sarcosinate, Sodium Chlorite (Stabilized Oxygen), Vegetable Glycerin, Lavender Essential Oil
Gently clean your baby or toddler by pumping a small amount of foam directly to wet or dry skin and/or hair or onto a moist cloth. Rinsing is not required. Foam can also be added directly to bath water if desired. Product is gentle around eyes but if irritation occurs rinse eyes with plain water.
When Adler was a newborn baby we tried oodles of products that claimed to be "clean" and "natural" and "organic" etc.  (see this article for more) and were left really frustrated by false claims and articles that we read about company practices.   After much searching and trying we couldn't find anything that we really loved that was 1. user-friendly 2.  worked well  3.  affordable and 4.  readily available. So what did we do?  We made our own!!! Our Raise Them Well Baby Foam and Shampoo is one of my favorite products for SO many reasons:  1.  Certified TOXIC FREE...
NO.The FDA does not certify organic or toxicfree personal care, household cleaner, or cosmetic products.  Actually, the reins are quite loose when it comes to labeling standards in the US.  That's the cold hard truth.  Product formulators can write just about anything they want to on their labels and get away with it. It's nonsense really, but it's reality and it means that reading labels or only supporting companies that openly share their product ingredients is more important than ever! A few examples: NATURAL Products labeled "natural" can still be processed with harmful chemicals. ORGANIC A company can label their...
I've mentioned before about the lack of regulation and standards in the personal care products industry, but I think it's really important to keep talking about it.  Unfortunately, too many families trust products as safe just because they're on store shelves and say they are "non-toxic". Did you know that non-toxic means that only 49% or fewer of lab animals DIED when exposed to the chemical or product?  I'm guessing you would agree with me that you don't want a product with 49% lethal power in mice to be on your family's skin or teeth. There are countless products available...
Prenatal Vitamin
No Taste or Smell. Easy to Swallow Capsules. 100% Money Back Guarantee.

Vitamin K2 MK-7 - Critically important for baby's bone and teeth development.

Methylfolate - It is estimated that 30-40% of women do not metabolize regular folic acid which can lead to an unhealthy nervous system.

Methylcobalamin - Natural form of B12. Most other forms are cyanocobalamin which contain a cyanide molecule.

Glutathione -Helps protect the baby from toxins and helps mom gently detoxify.
Most prenatal vitamins on the market use outdated research, ineffective/potentially harmful ingredients, and are missing key ingredients for a healthy mom and baby. It doesn't matter how natural, organic, or food based the multivitamin is, if it is using the wrong ingredients it is doing you and your baby a disservice.
Here's why Raise Them Well's Prenatal Vitamin is the best you can find: Because it was developed by an Integrative Medicine MD for his wife. He couldn't find a prenatal vitamin that had all of the necessary ingredients to insure healthy fetal development so he developed it to include: Vitamin K2 MK-7, Methylfolate, Methylcobolamin, and Glutathione.
- Vitamin K2 MK-7 is considered to be the critical ingredient for proper bone, teeth, and jaw development. Without it kids may develop abnormal skeletal structure and crooked teeth. 
- Methylfolate is necessary for up to 40% of pregnant women because of a possible mutation in the MTHFR gene. With this gene, women are not able to metabolize regular folic acid. Improper metabolism of folic acid can lead to improper brain and nervous system development. 
- Methylcobolamin is the active, natural form of B12 and it is very important for a healthy brain and nervous system. Unfortunately, most prenatal vitamins include cyanocobolamin (B12 bound to cyanide). 
- Lastly, it is enhanced with Glutathione. Studies have shown that there are hundreds of toxins in the cord blood of babies. It is nearly impossible to completely eliminate your exposure in our toxic world. Glutathione binds to toxins floating around in the blood and helps mom gently detoxify while protecting baby.
PLEASE NOTE: Unfortunately our last production run had a labeling error and the label on the bottle is inaccurate (most notable is Iron of 200mcg and it should be 28mg). Please refer below for the accurate Supplement Facts. You can also download it here for your reference.
As an Integrative Medicine physician, I find the new research about the  importance of proper nutrition from Day 1 for babies fascinating.  I'm not talking about Day 1 after birth, I'm talking about Day 1 at conception.  It is now becoming abundantly clear...
Is the Raise Them Well Prenatal Vitamin only for pregnant and nursing women? What a great question! The answer is No! Our prenatal vitamin is fantastic for all women and teens, not just pregnant and nursing women for lots of reasons...
Customer Reviews
Baby Shower Gift Box
Got this for myself since I LOVE the prenatal and wanted to try the belly balm. the belly balm is great, makes my skin feel super soft and I swear it is helping with my insomnia. Haven't tried the baby products yet as I'm still 7.5 months pregnant but I have bought many things from this site and LOVE them all, so I am very confident I'll feel the same with them.